As the pandemic pushes us further into a digital world, branding has become a top priority for companies seeking to differentiate their products and services. From Nike's swoosh symbol to the double C's of Chanel, the power of branding is unstoppable and stands the test of time.
As property managers, building your brand is just as important for your success as it is for any business. It is your key to shine in the crowded marketplace.
So with that said, what is personal branding?
Jeff Bezos, the founder of Amazon, quoted, "A brand for a company is like a reputation for a person. You earn a reputation by trying to do hard things well." Rather than promoting a product, you are building a reputation for yourself. Personal branding is how you manifest yourself to the world. Building your brand successfully on a personal level will make you stand out from the competition and win trust with your tenants.
Here are some tips for building a strong brand for property managers:
1. Build your image
A vital key to successfully creating your brand is to build your image. Best-selling author and entrepreneur Krista Neher said it best, "Start by knowing what you want and who you are, build credibility around it and deliver it online in a compelling way."
What do you want to be known for? Do you want to be viewed as the caring neighborhood property manager? The most trusted property consultant?
Like any business, your personal branding strategy needs to have a clear direction and a target audience. Asking yourself these questions can help you define an image you want to achieve:
What are my core values?
What objectives do I want to achieve? Attract leads? Become the go-to real estate expert?
What are my strengths and weaknesses?
What value can I bring to potential clients and existing tenants?
What resources do I have to maintain my image?
2. Be a source of inspiration and information
After you establish who you are, the next step is to make your brand visible. Put yourself in a position to be seen as an expert or a thought leader in the real estate industry. Curate engaging content that is relevant to your audience. Make it a goal to become someone people look up to and go to for expert advice and the latest updates on property management.
Share your ideas and expertise through regular social media posts, blogs, webinars, or podcasts. For example, Simplerent.com.au, a property contract and payment automation software provides a weekly dose of property management tips, insights, and even funny content to their followers.
Don't just post properties for lease, add a personal touch by giving them a peek of who you are. A weekly content about your interests can give you a brand persona that people can relate to, and make you more fascinating as a person.
Aside from being visible online, making yourself available is vital in fostering relationships with your potential clients. Responding to comments and engaging in meaningful conversations can build trust that will trickle down to leads and revenue.
3. Network with purpose
There is a huge opportunity with using social media for property managers to harness the power of communities to expand networks and ultimately generate leads and even referrals. In the 2019 Avengers: Endgame, Thano's power continued to grow as he acquired more infinity stones. Like Thanos, boost your brand power by extending your networking reach.
Aside from managing properties, how about learning something new? By exploring other hobbies and interests, you can discover entirely new sets of contacts. Volunteering for community service may provide you networking opportunities.
Whether you're attending a conference or enjoying Zumba class, always network with purpose. When networking, keep in mind what you can do for other people. Providing something of value to others warrants something in return. When you build authentic connections, people naturally gravitate towards you - create positive word of mouth about you and ultimately open doors for real estate opportunities.
4. Let other people tell your story
As they say, word of mouth is your best PR weapon. This may sound obvious but good online testimonials about your service can make your personal brand more trustworthy and dependable. Once you've leased a property, request your tenants to give you recommendations, ratings, and reviews on agent rating websites or your agent profile page in real estate listing sites.
Don't forget to ake a screenshot and share your reviews on your social media accounts, so you can position yourself as a local expert in your community. You can also curate content on your website to highlight customer feedback. Global Office.team (Go-VA), a business outsourcing company features client reviews with photos.

Bonus points: Include video and audio testimonials when possible for even greater credibility.
5. Create your winning edge
While the COVID-19 pandemic ignited a real estate boom in Australia, property managers face tougher competition amidst increasing demand.
Differentiating yourself is paramount to success. One great way to boost your winning advantage is through digitalisation.
Offer unmatched rental experience for your tenants by delivering fast, easy and secure transactions like no one else. Property management platforms like SimpleRent.com.au have been proven to help property managers deliver a stress-free rental experience for their tenants.
With SimpleRent, tenants can conveniently receive and sign lease contracts on mobile, and pay recurring rent payments online. Tenants who have paid their rent with SimpleRent have enjoyed over $300 in shopping savings through SimpleDiscounts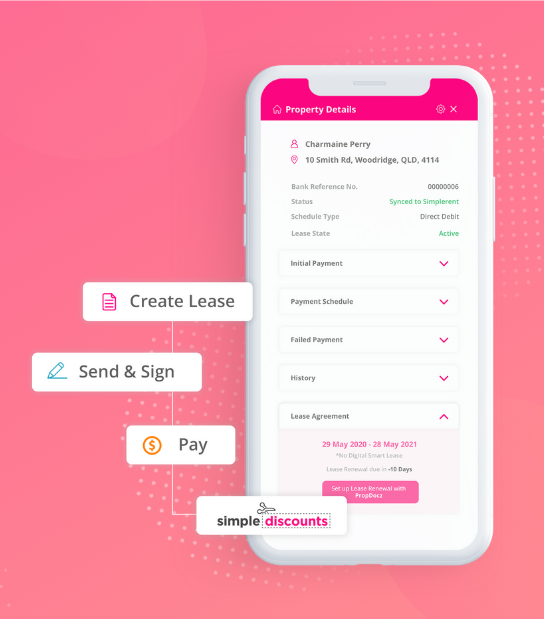 Establishing your personal brand is not an overnight process. It takes many years of consistency and strong integrity to position yourself as the property manager you envisioned yourself to be. Remember that it is not a short-term promotional campaign but an authentic process of marketing oneself, which allows you to attract tenants, close more deals, and ultimately build lasting meaningful relationships.