The lease renewal season can be a particularly trying time for property managers. It's a period that uncovers a multitude of challenges: the hours poured into exhaustive paperwork, tense discussions with tenants, and the onerous responsibility of ensuring complete legal compliance. In essence, the renewal process can sometimes feel like navigating a minefield. The stakes are high, with the stability of rental income on the line, combined with ever-increasing tenant expectations and complex legal frameworks. This intricate blend of hurdles often leaves property managers seeking an effective and efficient solution.
Why You Need to Streamline Your Lease Renewal Process
The good news is that streamlining your lease renewal process can alleviate most of these problems. Here are the top 5 benefits:
Boosted Efficiency: By streamlining the lease renewal process, you significantly reduce wasted time and resources. The efficiency derived from a systematised process enables your property managers to handle renewals smoothly and rapidly.
Income Continuity: Streamlining the renewal process ensures that leases don't roll over into a periodic agreement. This gives real estate agencies and landlords the assurance of continuous income, mitigating the insecurity of unpredictable rental scenarios.
Enhanced Tenant Relations: A streamlined process fosters better and more transparent communication with tenants. It creates an environment where tenants feel empowered and informed, thus improving their overall satisfaction and possibly their inclination to renew.
Regulatory Compliance: In Australia, regulations vary across states, including tenant notice requirements for lease renewals. Having a structured, tech-enabled lease renewal process helps property managers ensure seamless and timely compliance.
Competitive Advantage: Implementing a streamlined process not only improves internal operations but also paves the way for a competitive edge. A seamless renewal process can significantly enhance a tenant's experience and can serve as a deciding factor when it comes to renewal—giving you an edge over competitors.
When we move from a reactive to a proactive stance in managing lease renewals, we create an environment that is efficient, profitable, and legally compliant, and promotes healthy relationships with tenants—all keys to higher growth in property management.
Use Technology to Optimise Your Lease Renewal Process
The property management industry currently faces many challenges from high employee turnover to rising rent costs and outdated technology that make it difficult to deliver exceptional tenant experiences. To meet and exceed tenant expectations while safeguarding agency revenue, real estate agencies must empower their property managers with the right technology. By automating processes and providing timely personalised communications, property managers won't just boost their operational productivity but also cultivate enriched tenant relationships, leading to improved satisfaction and higher chances of lease renewals.
SimpleRent's lease renewal feature gives agencies and property managers the tools they need to streamline their approach. With a strong technology foundation, your team can spend more time delivering lease renewal experiences that are not just efficient, but also delightful for tenants.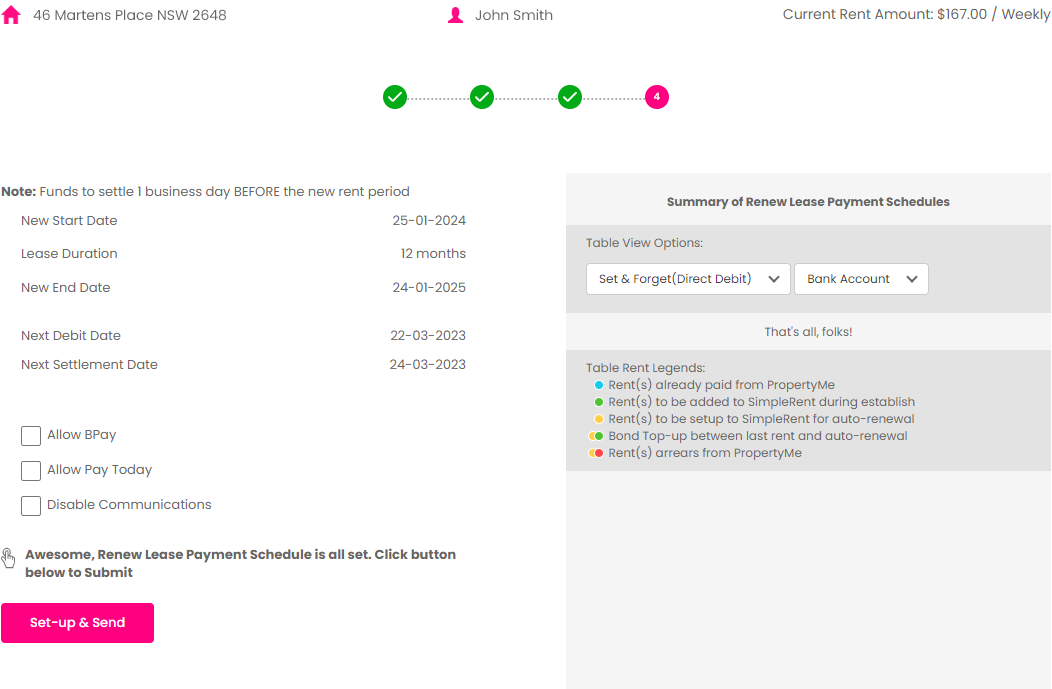 Here's what SimpleRent can do for your lease renewal process:
Ahead of Time Setup: Easily set up tenants for upcoming lease renewals with a few simple clicks.
Advanced Planning: Easily schedule lease renewals and adjust rent increases and lease terms in advance.
Automated Communications: Get agency-branded templated communications done for you.
Real-time Monitoring: Keep track of lease status with our live lease report.
Convenient Payments for Tenants: An easy set-and-forget payment system for tenants.
Welcome a future where lease renewals are seamless, personalised, and pleasant experiences, not just for you as property managers but also for your valued tenants. This future, where technology and user experience blend perfectly, is at your fingertips with SimpleRent.
Embrace the transformation that SimpleRent brings. Schedule a demo today and take the first step towards revamping your lease renewal process!