Getting tenants to sign your lease agreement is arguably the most anticipated part of the lead-to-lease process - yet it's slow, error-prone, and has a lot of back and forth.
It's never been easy to manage leases, especially if you're relying on time-consuming, paper-based documents. It involves manually drafting contracts, printing, scanning, sharing over email or mail, and waiting on wet signatures - plus any errors along the way that repeat the process. This costs you time, money, and potentially a disinterested tenant.
This is where automation is needed. A tool that streamlines the lease process from contract generation to signing. From a physical contract to a digital lease!
But, hold on for a sec. What is a digital lease?
In this article, we'll take a look at what a digital lease is, what it can do for you plus a must-try tool you can use.
A primer: what is a lease?
A lease (also known as a tenancy agreement) is a legally binding, written agreement between a tenant and landlord or property manager. It gives the tenant the right to live in a given property for a fixed term. It includes the lease terms and conditions, and the rental rights and obligations, that both parties agree to.
So, what is a digital lease?
A digital lease is a tenancy agreement in digital format. Simply put, a digital lease is a lease contract that is created online, digitally. It is sometimes called 'e-lease' which is short for 'electronic lease'.
E-leases are as legally binding as paper-based tenancy agreements. The creation and signing of digital leases are now done entirely online with software tools that allow you to:
Create tenancy agreements from existing templates
Auto-populate lease information to generate unique leases
Send e-leases for tenants to sign
Enable electronic signing on any device
Automate lease reminders
Having digital lease software can simplify your entire leasing process from creation to signing. If you're tired of manually drafting leases, printing or scanning, and back and forth editing and chasing wet signatures, now is the time to add automation to your lease negotiations.
You'll find that digital lease software offers the following benefits:
Speeds up leasing process: Decreases lease creation and signing time by 80%
Saves money on paper, printing, ink, and printer maintenance
Eliminates data entry errors through automation
Improves tenant's lease signing experience: Delights tenants with easy and convenient signing
Reduces carbon footprint: Saves trees by going paperless

i

Did you know that in a year, there are over 90,000,000 pieces of paper consumed for lease contracts in Australia? That means over 9,000 trees are cut down every year
What to look for in a digital lease software?
If you're sold on the idea of digitising your leasing process, you'll find there's a fair share of tools on the market that offer electronic signing. However, not many are primarily designed for real estate contracts more so lease agreements.
Also, don't confuse digital lease software with e-signature apps that offer electronic signing of documents - and that's it.
A good digital lease software must have the following features (e-signing is just one of them!):
Cloud-based for easy access
User-friendly
Electronic signing
Integrates with other apps
Readily available pre-templated lease agreements
Fully compliant with legal and state requirements
Secure and safe
With SMS and email facility for sharing
Affordable
Sure, there are dozens of e-contract tools out there. But very few tick all the boxes of the checklist above.
So if you're shopping around for an all-in-one solution for generating lease contracts, you won't find a tool that's more complete and easier to use than SimpleRent Digital Smart Lease. Not to mention it's completely free!
SimpleRent Digital Smart Lease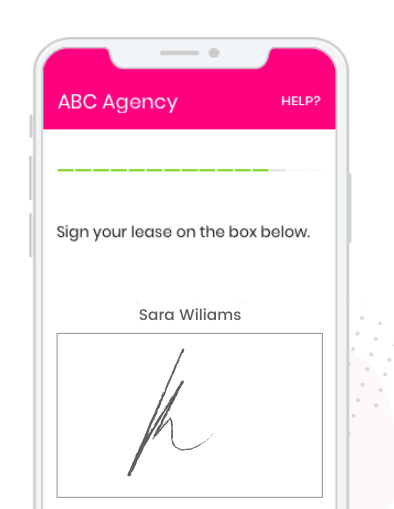 SimpleRent Digital Smart Lease (Propdocz), an end-to-end lease contract software allows you to create, review, send and sign digital leases in minutes - all in one platform. It has a pre-made lease template that is designed specifically for the Australian market and is fully compliant with state leasing regulations.
Because it is fully integrated with PropertyMe, Australia's largest property management software, with one click, you can send all property and tenant information from PropertyMe to Digital Smart Lease. Next, save it, and send it via SMS and email for your tenant to sign.
Some of our features include:
Comprehensive - handles end-to-end of the leasing process
Ease of use
Cloud-based
Secure and encrypted
Electronic signing on any device
Fully integrated with PropertyMe
Auto-population of lease (pull data from PropertyMe with one click)
Communication feature to send e-lease via SMS and email
Pre-customisable lease template
For property managers like yourself, there's nothing more impressive than offering a fast and easy contract signing experience despite the lack of physical contact.
Note: It is available with PropertyMe Integration and offered in Queensland, New South Wales, and Victoria (and soon in more states).
Cost:
100% Free
Final thoughts
In 2021, going digital is more important than ever. Those who fail to keep up with the pace of change will find themselves left behind, while the savvy ones who embrace technology will reap the rewards.
Having digital lease software can simplify and speed up the leasing process of creating, sending, and signing lease agreements. But you need a platform with features that work perfectly for you.
Hopefully, this guide helps you not only appreciate the benefits of digitising your lease but also find the software that best meets your needs as a property manager.
Get leases set up, sent, and signed in minutes with Digital Smart Lease.
Book a demo