Our vision at SimpleRent.com.au is to bring joy to tenants and this is why when we designed our system we asked how we can be a big WIN for tenants.
We then asked:
What if, we could help a tenant achieve 3x, 5x, or even >10x their bank account direct debit fees in savings?
What if tenants could save more than a week's worth of rent every year, especially after fees?
What if tenants could do this by shopping at the locations they like to shop at every week and save on groceries, alcohol, petrol, pharmacy, and more?
With this challenge, we created the SimpleDiscounts Buying Group, exclusive to SimpleRent tenants and agents.
We provide tenants and property managers with FREE access to discount coupons and store gift cards from a wide range of retailers nationwide. Everyone paying set and forget rent through Simplerent.com.au will automatically be registered to SimpleDiscounts and will enjoy shopping savings on anything from Woolworths, BWS, Dan Murphys, Woolworths Caltex Petrol Stations, Big W, Priceline Pharmacy, and more. SimpleDiscounts simply offers straight up money savings (keeping extra cash in the tenants' pocket through discounts).
Tenants who sign up to SimpleDiscounts can save $15 plus every week which can be much more than a week's worth of rent over a year.
For property managers and principals, partnering with SimpleRent gives them a boost. Tenants will enjoy these benefits when renting with them:
Discounts from top retailers: Tenants will enjoy discounts and save on their weekly shopping with SimpleDiscounts Buying Group.
Easy digital lease signing: Tenants will be able to receive SMS and sign lease in minutes on any device.
Hassle-free payment transactions: Tenants will be able to set up entry, bond, and rent payments online in 60 seconds.
A real life example of a family saving $822.64 a year by just shopping at Woolies, Dan Murphy's, and Caltex using SimpleDiscounts: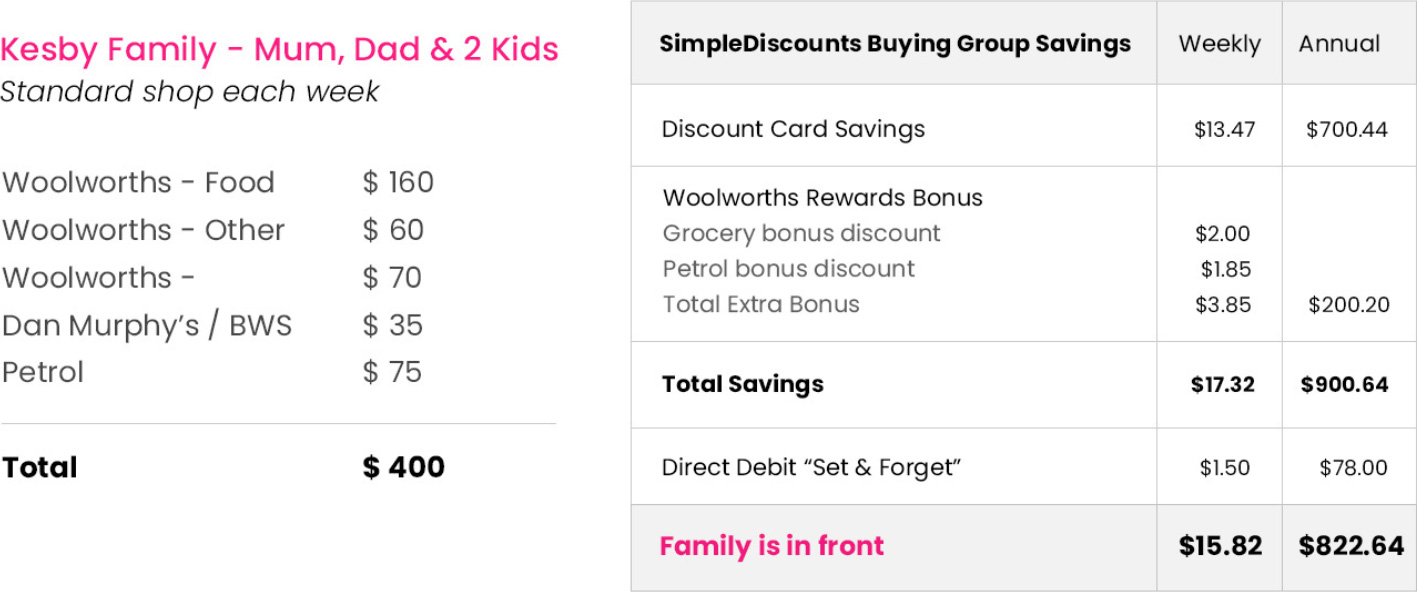 We are delighted to know that our tenants are finding value in our offering, and we hope that they will continue to use SimpleRent.com.au and SimpleDiscounts, and enjoy the many perks available.
Learn more about SimpleDiscounts.