Today, managing rental properties involves so much more than just providing families with a home to live in. Modern-day tenants expect a renting experience that's seamless, engaging, and, most importantly, easy.
With the evolving expectations among landlords and tenants, property managers try to keep up by wearing many hats with different responsibilities. These tasks range from preparing lease contracts, chasing payments, correcting incorrect codes, reconciliations to manual admin tasks.
If you're searching for an effective property management software to streamline your rental operations, look no further. Here's why you should use SimpleRent and why you won't turn back.
But first things first, what is SimpleRent?
SimpleRent is a cloud property management platform, optimises your lease and rental payments management. One platform designed to help property managers save time and agencies money, and increase tenant satisfaction.
So without further ado, we present the top 26 reasons why property managers should be using Simplerent. Hopefully, by the end of this article, you will be confident to take that plunge and see how SimpleRent can unlock your full potential.
Sold already? See SimpleRent in action. Book your personalised demo with a SimpleRent expert now.
1
It's a comprehensive platform for your property management needs
Property managers juggle many tasks all at once. SimpleRent does the heavy lifting for you all in one package - from lease contract creation to signing, from rent payment set up to collection, and from dashboard monitoring to reconciliations.
2
It's really… really simple to use!
As our brand name suggests, SimpleRent is the simplest property payments platform out there. We have gone to great lengths to fine-tune our platform's usability. Our platform embodies all things user-friendly with a straightforward interface and super clean user experience making it easier to use and learn than most property management software.
3
Easily manage your leasing process online
Take the paperwork out of leasing with SimpleRent Digital Smart Lease, an end-to-end lease contract management software fully integrated with PropertyMe, Australia's largest property management software. With one click, you can send all property and tenant information from PropertyMe to Digital Smart Lease. Next, save it and send it via SMS and email for your tenant to sign.
Digital Smart Lease is FREE for all PropertyMe users and currently offered in Queensland, New South Wales, and Victoria (and soon in more states).
4
It has everything you need for managing rent payments
SimpleRent's payment automation platform offers an end-to-end solution for your rent payment management and even more. Get paid faster with online payments and easily set up entry payments, bonds, recurring payments, and water bills. Everything in one place:
Secure property: Set up entry payment (and deposit) in just one click
Receive bond: Accept and monitor bond payments online
Schedule rent: Automate scheduled rent collection - weekly, fortnightly, and monthly
Set up water bills: Create water bills with one-off payment or payment plan options
5
No more awkward follow-ups because payment reminders are automated, too!
Leave the payment-chasing to us. We'll automatically remind your tenants via SMS and email of their rent dues so you don't have to. No more wasted time manually crafting awkward follow-up letters.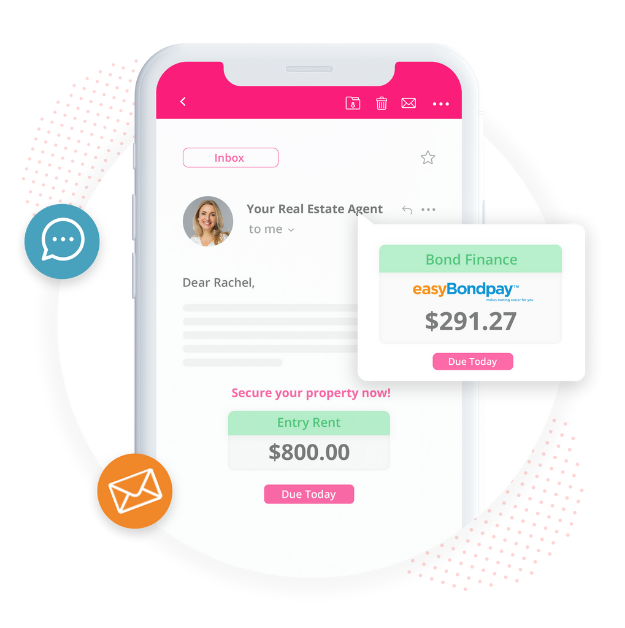 Bonus: Each tenant communication has tailored messaging to add a personal touch. Double bonus: You can see the exact time your message was delivered and opened.
6
Get full transparency with our real-time dashboard
With SimpleRent, you can have peace of mind with transparent transactions by accessing your live dashboard. Track every activity from SMS reminders, email send-outs to payment receipts and lease changes. Monitor all your properties in a single dashboard at any time.
7
Tenants and property managers enjoy daily shopping discounts
As tenants face the financial burden of paying rent weekly, Simplerent aims to help them squeeze more value out of their rent payments with its SimpleDiscounts Buying Group. Tenants who pay rent through SimpleRent set-and-forget enjoy access to shopping discounts from top retailers nationwide. Tenants can save $15 plus every week - which can be much more than a week's worth of rent over a year.
8
Happy tenants = more referrals
For property managers like yourself, there's nothing more impressive than offering a fast, simple, and enjoyable tenant experience. If you're looking for something that can set you apart, SimpleRent is your trusted buddy. SimpleRent empowers you to provide unique and excellent customer service that will sure to delight your tenants.
Delighted tenants mean repeat business and more referrals.
9
Saves as much as you 35% of your time on lease and payment-related tasks per week
If you list down all your tasks per day for the entire week, you would most likely see repetitive tasks consuming most of your time. SimpleRent's robust automation enables property managers to reduce manual work and redundancies. Imagine a stress-free day when you streamline your menial lease-related activities (i.e. preparing, printing, sending, following up, signing) and payment-related tasks (i.e. setting up, invoicing, sending, following up, revisions)
Now you can win back your week and do more of the things that matter most - building relationships with your landlord and tenants.
Ready to check out SimpleRent in action? Book your FREE demo now.
Property managers say they love how SimpleRent gives them a headstart on upcoming renewals. Our real-time dashboard gives you an easy view of properties due for vacancy so you maximize your occupancy.
11
SimpleRent helps fill your vacancies fast
With SimpleRent Digital Smart Lease, you can say goodbye to time-consuming paper-based leases, and manually entering property information, thereby practically eliminating human error and cutting hours chasing ink signatures. This speeds up your leasing process from 3 days to as little as three minutes. Now you can fill your rental vacancies fast!
12
SimpleRent makes lease signing easy for your tenants
SimpleRent Digital Smart Lease definitely comes in handy in today's era of social distancing. It allows you to gather electronic signatures securely. Easily send your e-lease to your tenants via SMS or email. Tenants then sign the e-lease from anywhere at any time using any device.
13
Save ~$30 in time, printing, and material per lease contract
With Digital Smart Lease, you can save time and money that you could have spent on paper, printing, ink, and maintenance. Enjoy ~$30 savings per lease.
14
Keep your payment records complete and 100% accurate
SimpleRent's automated rent collection system comes with automated bookkeeping ensuring all your payment records are complete and accurate at all times. With automation, you're less likely to have duplicate or missing records. Plus, imagine the hours saved on manual data entry while avoiding pontential data errors.
15
Reconcile bank accounts automatically
Trust accountants can rejoice as SimpleRent could help them cut down on time, cost, and data entry errors with file upload and automatic bank reconciliation. This ultimately reduces potential business financial risk associated with manual bank reconciliation.
How quickly do funds settle? Funds clear to your trust account in 2 business days. This means that rent payments will be scheduled only 2 business days in advance. Funds debited from the tenant's account after 5 PM Monday are settled to your trust account on Wednesday at approximately 2 PM. Most Agencies will then reconcile the following morning.
16
Everyone loves the auto-follow-up communications when tenants failed to pay
We have pre-built automation that notifies tenants via email and SMS when they fail to pay and reattempts to debit the tenant's nominated account for the previously failed payment. If the tenant fails to pay before their next direct debit, the failed payment will automatically be reattempted in the next week's direct debit run on the same day the rent is due again. We will then attempt the failed payment and the payment due for the week in two separate payments ensuring a higher likelihood of obtaining one week's rent.
17
It is fully integrated with PropertyMe
Users of PropertyMe can enjoy the full benefits of SimpleRent with our seamless integration. Our digital smart lease, payment automation and live dashboard - all fully integrated with PropertyMe.
18
It plays nicely with other platforms
SimpleRent is designed to seamlessly work well with your favourite trust accounting platforms, including PropertyTree, REI Master, Console, and Rest Professional. Our daily reports in .PDF, .PAY and .CSV formats follow the same reconciliation process with less effort.
Not yet ready for a product demo? Consult with a SimpleRent expert.
19
It reduces your carbon footprint
Did you know that in a year, there are over 90,000,000 pieces of paper consumed for lease contracts in Australia? That means over 9,000 trees are cut down every year.
With SimpleRent Digital Smart Lease, you can ditch the old-fashioned paperwork and go paperless with ease. Together, let's help save mother earth!
20
Simplerent donates a tree for every 50 e-leases
To help create a greener environment, SimpleRent donates a tree for every 50 digital contracts created through its Digital Smart Lease. That's about 10 trees planted per year per average size real estate agency that uses Digital Smart Lease.
21
Get world-class live customer support
Have a question or technical problem? We offer incredible support whenever you need it. Our live customer support has the expertise to help you get the most out of SimpleRent. They are just a message away. Simply click the live chat widget in the bottom-right corner of our app or our website to contact support.
22
Have peace of mind knowing your information is secured
As a property manager, you handle a lot of sensitive information such as bank account information and ABN, and personal data, including the tenant's home address, full name, and contact details. At SimpleRent, we keep your data secure with industry-leading technologies and powerful encryption. No data is shared with other parties.
23
Customised training and onboarding
At Simplerent, we understand that getting started with new software can have an adjustment period. Worry not because we got you covered. A dedicated implementation manager will have you up and running in no time with personalised training and onboarding.
We also offer specialist assistance as you migrate to SimpleRent:
Import your data without manual hassle through our bulk data transfer facility (for PropertyMe clients)
Adjust agency templates
Invitation of existing Tenants to SimpleRent (PropertyTree, Console, etc.)
24
A whole team on your side to unlock your full potential
At SimpleRent, we are more than just a proptech company. We are your trusted partner - helping you every step of the way. You can rest easy knowing you have a SimpleRent just for you:
Business development manager for product enquiries and demos
Implementation manager for your training, onboarding, and migration needs
Success manager to ensure your business goals are met
Customer support team for product support and assistance
25
A best-in-class platform you can trust
With consistent and efficient automation service in the real estate industry, SimpleRent has multiple awards under its belt:
Most Innovative Real Estate Payments Solution (Australian Enterprise Awards 2021, APAC Insider)
FinTech CEO of the Year, Australia (Awarded to SimpleRent CEO Ben Skeggs, Global CEO Excellence Awards 2021)
Payments Innovator of the Year, Finalist (FinTech Business Awards 2019)
26
Innovations are constant
We understand how quickly the tenants' demands shift. That's why at SimpleRent, we are always in pursuit of innovative solutions to keep up with the evolving needs of property managers and tenants. Whether we are improving existing features or releasing new ones, our goal remains steadfast - make property management as simple as ever!
Final thoughts
Need we say more? With an arsenal of leasing, payment, dashboard, and communication features, it's no surprise that SimpleRent is a top choice among property managers, principals, trust accounts, and tenants. It's a win for all parties.
So if you're looking to take your property management to the next level, there's no better time to explore your possibilities with SimpleRent and find out how we can scale your success.